International Hospitality Trip To London—A Trip to Remember!
The Post-graduate teams of Institut Paul Bocuse and emlyon business school gave the students of the MSc in International Hospitality Management program a very interesting and exciting program consisting of visits in London as part of the program's Hospitality Week this April.
The objective of these nearly 80 students during this trip was to study in the field and learn what it takes to be the best in the hotel industry in different categories of establishments.
Divided into 6 groups, the students visited iconic places in the hotel and restaurant industry. Among the establishments visited: the Shangri-La, Rosewood, The London Edition, the Beaumont, the Savoy, where students were received by Mr. Franck X. ARNOLD (Regional Vice-President & Managing Director).
Afterwards, the program participants partook in a traditional Afternoon Tea, one of the purest English traditions and a delight to all!
The groups also visited some more modern, newly created establishments like The Hoxton Southwark (where they met Victoria SCRASE, Head of People) as well as the BELMOND BRITISH PULLMAN train headquarters.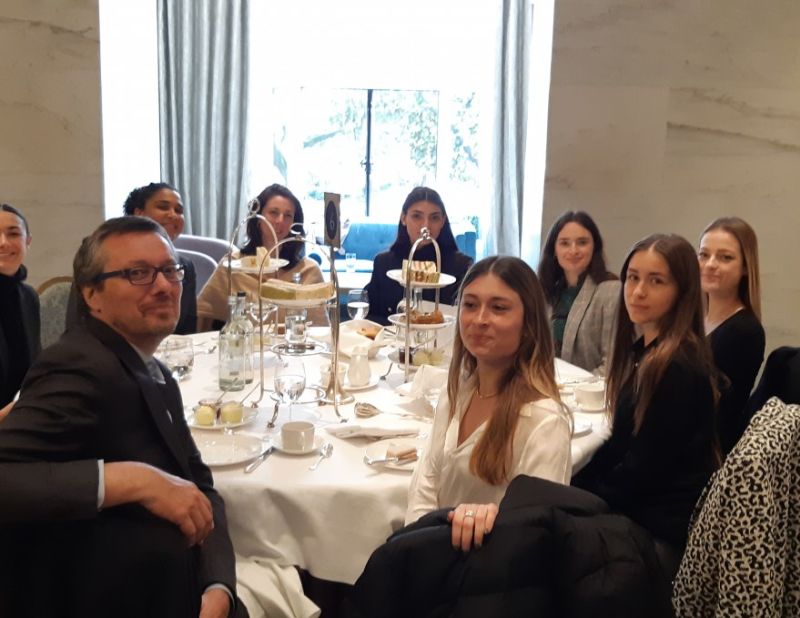 The groups of students were designed specifically so that participants with specific interests could also feel fulfilled and is why one of the groups specialized in catering took a trip to some of the most fashionable spots in the British capital, including Sketch, the Nosiman's, and Circo Popolare (one of the 3 restaurants of the Big Mamma group).
Students also were able to meet successful alumni like Arthur RUELLO (program alumnus) and later Clara FLEURY (Institut Paul Bocuse alumna) during a visit to the Deliveroo HQ.
Ultimately, MSc in International Hospitality Students got to spend 4 glorious days walking around the streets of London to gain invaluable industry knowledge and experience first-hand, while also getting the opportunity to forge lasting memories together.
All in all, this was a memorable stay for both the students and the faculty participants!