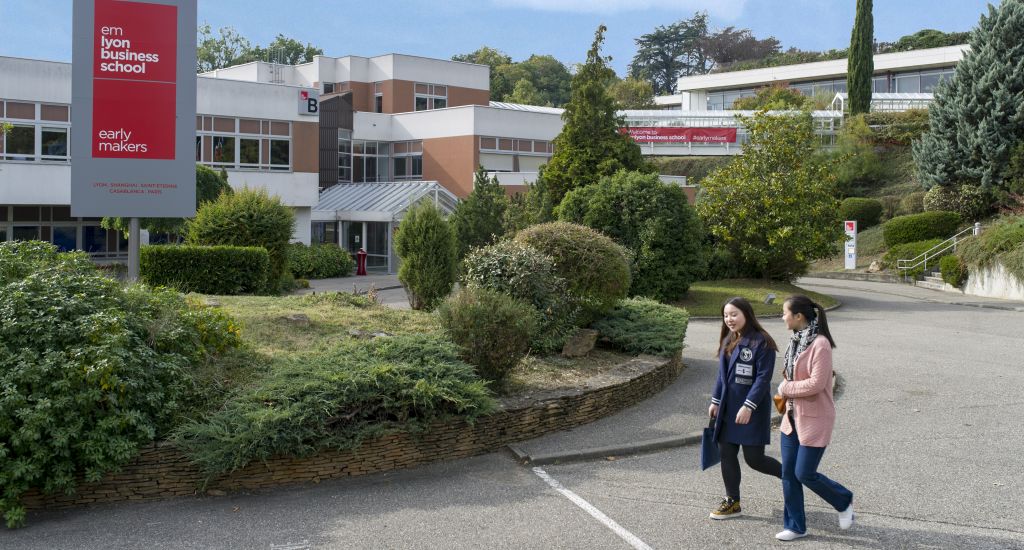 Nicolas PEJOUT is appointed Director of Strategy and Development and member of the Executive Board of emlyon business school
emlyon business school continues to renew its top executive team to accelerate the deployment of the group's early makers strategy.
Starting on December 1st, Nicolas PEJOUT will join the School as Director of Strategy and Development; as such, he will be part of the Executive Board.
For almost 10 years, Nicolas Péjout has been holding leading positions in higher education and research, following a professional experience in diplomacy (French Ministry of Europe and Foreign Affairs) and in organizational consulting and management (Eurogroup Consulting, in defence and health sectors).
At Sciences Po, he was Dean of Campus Life from 2011 to 2013, in charge of student life, management of affiliate professors, disability policy and relations with student unions. From 2013 to 2018, he is a member of the Executive Committee of Sciences Po, and runs executive education (200 programs for 7,000 executives a year and an annual turnover of €15M), a business activity he successfully turned around with his team. He was also running the commercial valuation subsidiary (Sciences Po Services), the summer schools and digital pedagogy.
In 2018, he joins the Université Paris Dauphine – PSL, as Managing Director of Services, ensuring the implementation of the strategy from 2017-2020. He runs business services (student training and student life 9,200 students, global affairs 215 partners, corporate relations 1,500, communication, alumni 90,000) and support functions (finance annual budget of €120M, digital, human resources, legal, corporate real estate). He is most particularly dedicated to implementing the transformation of Dauphine through its digitalization, the renovation of the campus in Paris and a global approach of quality of life at work. He is also a a board member of the Dauphine Foundation.
A Sciences Po graduate, one of the Stellenbosch University (South Africa) and Doctor from the
Ecole des Hautes Etudes en Sciences Sociales(EHESS), Nicolas Péjout also taught at Science Po for eight years.
Working at emlyon business school is joining talented teams, dedicated to a demanding project, with both an international span and a territorial anchorage specific to each campus, close to business and socio-economic circles, and based on a unique and pioneering model in the world of higher education and research. The powers of emlyon business school are a great asset to lead an ambitious development strategy, borne by a balanced dynamic of transformation and a stand-out brand, while approaching the 150th anniversary of the School
Isabelle Huault, Présidente du Directoire d'emlyon business school

I am very much looking forward to seeing Nicolas Péjout again, someone whose professional and human qualities I have come to know. As part of the executive team, and Director of Strategy and development, he will have three priorities: ensuring the deployment of the 2021-2025 Plan, with a particular attention to our institutional relationships; supporting the School's transformation via human resources, digitalization and our future Hub in Lyon Gerland; intensifying the School's international outreach, in close relation with our current and future campuses
Nicolas Péjout rejoindra le directoire d'emlyon business school composé actuellement d'Isabelle Huault - Présidente et Directrice Générale, Annabel-Mauve Bonnefous – Directrice des programmes et Tessa Melkonian - Doyenne de la Faculté.
About emlyon business school :
Founded in 1872 by the Chamber of Commerce of Lyon, emlyon business school's intake this year is of 8,600 students from 110 different nationalities, and of more than 6,000 participants in continued education. The school operates on six different campuses (Lyon, Shanghai, Saint-Etienne, Casablanca, Paris, and Bhubaneswar), draws on a network of 190 international academic partners and runs a community of 32,000 alumni spread out in 120 countries. emlyon business school's mission is to reveal "early makers", to train lifelong learning responsible leaders, managers and entrepreneurs, with a solid international experience and intra/entrepreneurial capacities, able to address the complexity of the world, to make it meaningful, to shape and transform the businesses and society they live in, in a collaborative approach. The proposition of emlyon business school is to develop such competences within a unique pedagogy, combining academic research output of excellence and the elaboration of innovative learning tracks based on experimentation.
www.em-lyon.com