2023-2024 intake - Information
More than 4,000 learners will enter the programs of emlyon business school in 2023-2024, on the campuses in Ecully, Paris and Saint-Etienne, or remotely.
Administrative integration and preparation of the 2023-2024 intakes:
emlyon will be shut down for the summer period between July 28th (evening) and August 24th (morning) 2023. During that period, the new incoming students can get in touch with the Student Support for requests about their administrative integration (IAEL):
By phone on +33 (0)4 28 69 01 74
By email:
For our campus in Lyon-Écully: iael@em-lyon.com
For our campus in Saint-Etienne: iael42@em-lyon.com
For our campus in Paris: iael75@em-lyon.com
For any other request, students may refer to the information available on makersboard.
2023-2024 intake dates of emlyon programs: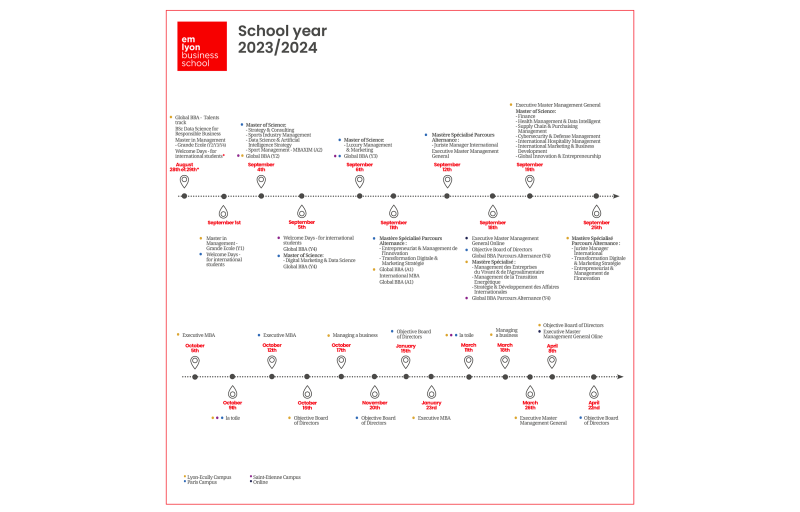 An intake under the banner of the UN's 16th Sustainable Development Goal
Since it turned into a société à mission in July 2021, the School has been asserting its mission of general interest in its legal status thereby including social and environmental responsibility in all its programs and activities. The competence frame of all of its programs was thus redefined against the UN's 17 Sustainable Development Goals.
After focusing on the SDG #10 and #12 in the previous academic years, the red thread of the 2023-2024 year will be the SDG #16: "Promote peaceful and inclusive societies for sustainable development, provide access to justice for all and build effective, accountable and inclusive institutions at all levels".
Courses, conferences and meetings will be open to students to allow them to grasp the issues pertaining to this SDG and to address them in an informed manner.