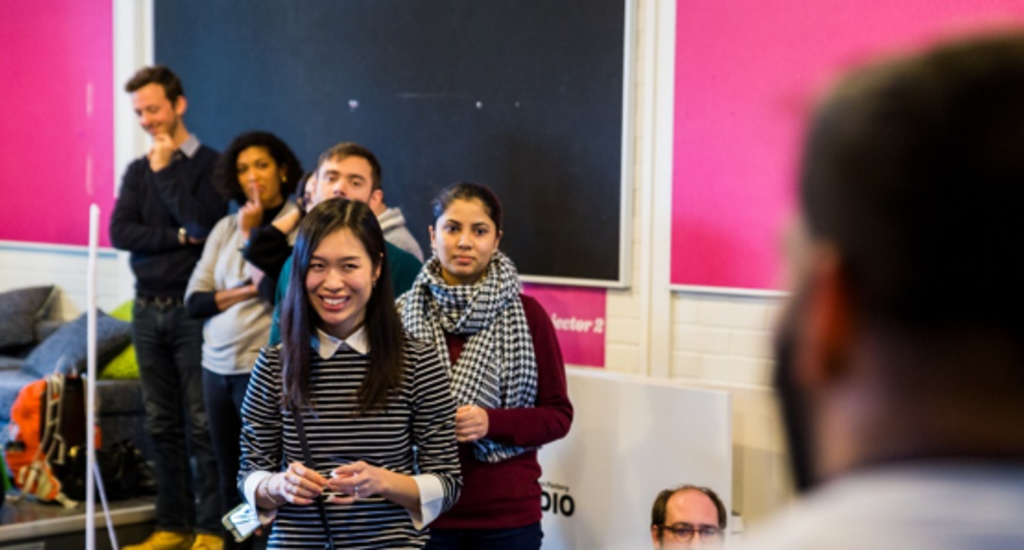 From the expanses of North America to the diversity of Europe – an emlyon International MBA alumna's tale
When an educational decision that will define your future involves a complete change of continent, approaching challenges as positive opportunities can be key to the success of such a personal and professional undertaking. Echo Zhang recounts her journey from Montreal to emlyon business school and onto the burgeoning career she has established since graduation.
You took a major leap from your home and working life in North America to further studies and the next stage in your career in Europe. What motivated this switch and Lyon in particular?
Echo: My case was made easier in that I moved over with my French husband, whose family is from the Lyon area. The European adventure was therefore not so intimidating for me. As for the choice of emlyon business school, once I had explored all the options the region had to offer it became quickly obvious to me which school had the strongest reputation, backed up by consistently good rankings results. I was also a recipient of the school's Excellence Scholarship, which is awarded to applicants with a 700+ GMAT score. Naturally, I was pleased to get this financial help, but it also reflected the quality of applicants and therefore the program itself.
Q. Once you had homed in on Lyon and emlyon business school, what swayed you towards the International MBA?
Echo: Before moving to Lyon, I already had a good 8-9 years of professional experience, notably at Sterling Talent Solutions in Montreal. My responsibilities ranged from developing and managing a national compliance program and devising multi-channel marketing materials through to providing consulting services and strategic planning. However, I wanted to broaden my knowledge and experience further still, but over a relatively short, intensive period. The International MBA ticked all the boxes, providing in the space of one year a comprehensive understanding of all facets of a company.
Q. Which aspects of the program struck you as the most beneficial?
Echo: Both then and still today, the chance to hone presentational skills and practice them in front of partner companies of the school was an invaluable experience. We learned to grasp the materials required to pitch and present convincingly and got the chance to test them in realistic conditions before corporate audiences. Even better, we were exposed to a wide range of companies from various industries and gained deeper insight into the kind of challenges and issues we would face in our careers via a host of truly insightful case studies. I haven't stopped learning from this since and continue to apply what I learned back then in my career today.
Q. How did you make the transition from student and graduate of emlyon business school to the professional you have become since? In what ways did the school assist you?
Whilst still a student I received support and advice from a coach within the emlyon career center, notably on how best to exploit tools and platforms such as Linkedin to improve visibility not just of my profile but also my skills, competencies and experience. Sure enough, it was via Linkedin that I established contact with my current employer Inova and via an emlyon alumnus, who in his capacity as Head of Customer Success decided to create a brand-new position for me - Customer Success Manager in charge of the biotech business unit, here in Lyon. My career with Inova evolved since I joined - I moved up to Head of Customer Success Biotech, and recently I made the move to become a Senior Business Analyst in our strategy team. Doing an MBA has proven crucial as I am called upon to be involved in many aspects of the company, including sales, project management, customer success, and product management within a company embracing pharmaceuticals and software solutions.
Q. Given your international student profile and the big step you took, what were the defining challenges and opportunities of your time at emlyon business school?
Echo: With the family roots I already had in the area via my husband, getting set up was relatively smooth. That said, any international student must brace themselves for the bureaucracy and red tape in France!! Otherwise, for me, nothing but positives. Europe and France offer great proximity and diversity of other countries and cultures. In terms of Lyon specifically, everything is close at hand in the center and if you live more towards the suburbs, nature is on your doorstep. Within a few hours' drive, you can easily go to the Alps, or visit beautiful beaches in the South of France. I can't say I miss the climate of Montreal much either, plus there is not just a feeling but also genuine examples of how Europe and European countries such as France are steeped in history. I haven't looked back since.