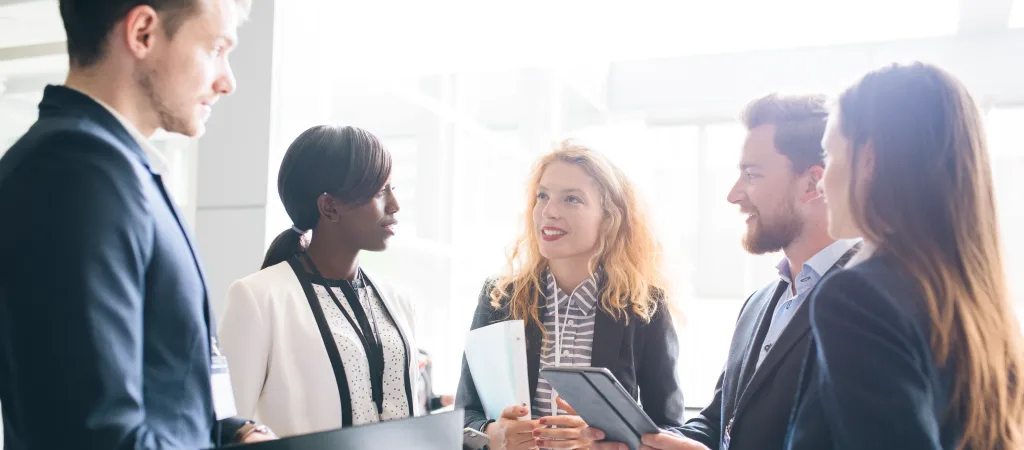 Business partnerships
A range designed for businesses
Discover our partnership offer
There are many ways to support or associate your company with emlyon. From the recruitment of students or young graduates to the participation in educational or research projects, or by supporting the school's infrastructures, the opportunities to support our School are varied.
Get involved in the school's research projects and areas of expertise
Would you like to dig deeper into a topic in common with one of our research focus areas in order to address your new stakes?
We can develop a professorial or research chair, or together deploy other formats or projects.
Sample focus areas:
Impacts of artificial intelligence
Emotional intelligence
Health and well-being at work
New workspaces and managerial practices
Intrapreneurial dynamics ...
How will your company benefit?
Guide your practices and dig deeper into your strategic issues
Generate new solutions and gain perspective on new levers to address your stakes
Rely on our experts' involvement and our dedicated resources
Give concrete form to your projects and develop specific knowledge and skills relevant to your operations or context (corporate labs)
Gain visibility, depending on the output available (observatory, events, white paper, case studies, etc.)
Test new models and procedures
Interested in new and inspiring experiences? To address companies' emerging and future challenges, we set up innovative systems to challenge your business practices:
expedition class or learning trips to the latest workspaces;
emlyon business school boot camp or makers' lab to conceptualize your future products and test new ways of working;
shadow comex to get students' viewpoint on one of your strategic issues examined in an excom meeting...
How will your company benefit?
Participate in innovative projects
Have access to our areas of expertise in order to more effectively address and guide your transformations
Leverage the emlyon business school network and community of experts and learners
Leverage our entrepreneurship know-how
Interested in growing your business or leveraging our entrepreneurship network? You can be guided and supported by our incubator or our accelerator, sponsor one of the programs, initiatives or events in progress or yet to be created.
How will your company benefit?
Privileged access to our entrepreneurship community and the media visibility that is potentially associated with that
Guidance and support from experts in entrepreneurship to help grow your business
Build your knowledge and gain a better understanding and usage of the changes in entrepreneurial practices, ecosystems and models
Experience an immersion in startups and be in contact with new, emerging models
Co-create training programs
Interested in linking your area of expertise to that of emlyon business school? We co-design training programs with companies using shared areas of expertise, in phase with the reality of the job market and the requirements for skills development.
How will your company benefit?
Showcase and leverage your expertise through a training program
Play an active part in the teaching dispensed by emlyon business school
Involve your company in developing talents and skills
Develop your CSR and employability initiatives
Interested in committing your corporate social responsibility alongside emlyon business school?
You can provide financial and human resources to support the school's commitments to society: sponsor the Trait d'Union Multicampus Multiquartiers or the new responsible commitment program available to students, award grants or scholarships, develop new ways of making the school accessible to a broader cross-section of society, or new environmental commitments...
How will your company benefit?
Enhance your image as a responsible and committed company
Boost your attractiveness and raise your profile for students
Become involved in actions that are a source of inspiration and innovation for your company's CSR
Sponsor a program
Join the scientific committee and be involved in designing the program.
Benefit from our students' expertise by using your company as a business case.
Raise your profile on our different campuses
Interested in showcasing your brand to emlyon business school students on our different campuses? Various sponsorship options are available to our partners: sponsor flagship events (e.g. graduation ceremony), an initial or continuing training program, a learning event (the early makers' challenge at the beginning of the MSc in Management – Grande Ecole year, Transforming Early Makers projects, etc.), a course, an emblematic venue on our different campuses, involvement in the Gerland Hub 2022 project...
How will your company benefit?
Raise your profile as an employer brand in students' eyes
Showcase your areas of expertise through a training program
Contribute to upgrading teaching and learning methods
Invent the partnership that's right for you
Would you like to build a system that brings together several of our services? We'll construct the partnership that meets your need