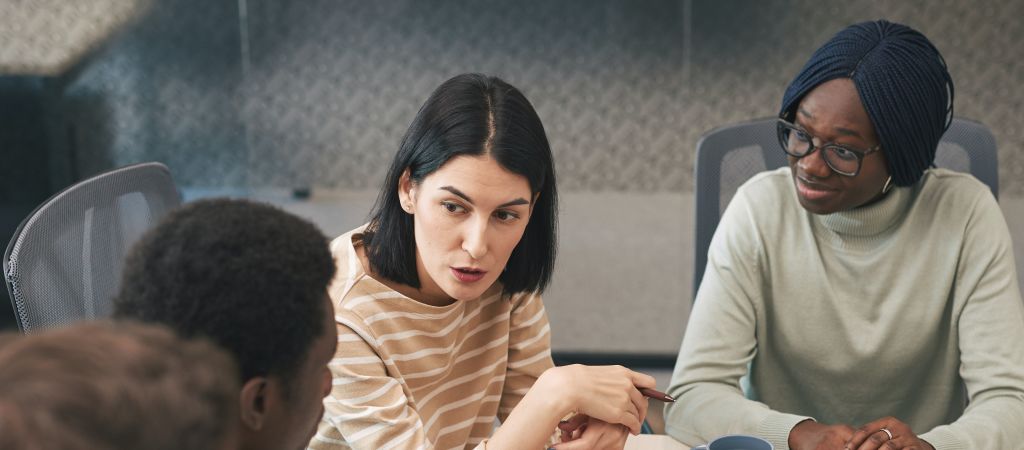 Gender equality and anti-discrimination measures
Gender equality and anti-discrimination measures
As part of our commitment to achieving a more inclusive and responsible society, we take action and assert our position in favor of gender equality and the fight against any form of violence or discrimination.
Feminization of the school's governance
emlyon has acquired new skills and appointed more women to its executive team in a bid to continue developing the school. In 2021, the share of women in the governance bodies is as follows: women make up 60% of the Executive Board (three of the five board members) and 42% of the Steering Committee (10 of the 24 members)
Gender equality policy
Promoting gender equality is one of the main priorities of our social policy: women make up 64% of our total staff across all of our campuses and 66% in France. Over and above the emlyon gender equality in the workplace charter signed in 2014 by Najat Vallaud-Belkacem, an Agreement on gender equality and inclusion policy was concluded as early as December 2018, ratifying the group-wide actions taken to proactively encourage women to apply for promotions and mobility opportunities in our organization.
speakup.emlyon.com In 2020, the SER Department, working hand-in-hand with the HR and legal teams and the students, introduced a set of measures to combat sexist and sexual discrimination and violence. This entailed creating a reporting protocol, an online reporting platform accessible to the school's students and staff members, designating contacts (the wellness center, HR and the Legal department), running awareness-raising and training sessions for the staff, faculty and association office-bearers (in January 2021, over 50 staff and over 150 students had been trained).
These actions are supported by student activities and initiatives, such as:
The Olympe collective is a student collective formed to promote gender equality and combat sexism, and set up by around 15 students (of both sexes) in 2017. Its creation was supported by the school's management. Today it has a membership of over 50 students and 12 faculty, who organize discussion evenings, talks and, most importantly, Women's Week, which every year gathers all of the school's student associations and staff to talk about equality.
Creation of an association to defend LGBT rights: "em'brace". This association has set out to raise students' awareness of the LGBT+ issue and be a support platform.
#balancetonstage | An initiative to combat sexism in the workplace, produced by three of the school's students. As both witnesses and victims of sexism during their internships, they conducted a survey and collected numerous first-hand accounts in order to create "the pocket guide to sexism", which provides tools and guidelines to help our students understand what constitutes sexism.
Support and training
In view of the difficulties women experience in the workplace with regard to discrimination and unfair treatment, we have set up training sessions aimed at changing workplace practices:
Empowerment workshops are available for female students to prepare them to cope with situations in the world of work, especially in pay negotiations and self-censorship with regard to applying for promotion in a company.
The certificate "Objectif Conseil d'Administratrion" aims to give women their rightful place in companies. This program was created in 2014 by emlyon in partnership with HerValue, a recruitment agency specialized in placing women board members. The program was developed within the framework of the "Coppé Zimmermann Act", which is designed to support diversity and stipulates a minimum quota of women on boards of directors. Since its inception, we have trained around 200 participants. Over 40% of the women who have taken this course are currently, or have been, board members.