Design Thinking, a collaborative approach to improving your company's performance
Design Thinking is now widely used as a way of managing innovative projects or solving the problems faced by companies and their customers. A people-centric approach, it is based on co-creativity and the feedback from users of products or services. We take a closer look at the methodology and its applications.
Design Thinking: What's that?
A new approach to innovation management, Design Thinking was developed at Stanford University in the 1980s. The basic principle is that customer feedback must be taken into account by designers if a new product is to meet a real market need and therefore be desirable. By definition, this creative approach is closely tied to the notion of the user experience, whose economic importance is continually increasing. By providing solutions to the problems raised by users of products or services, Design Thinking can deliver experiences that are both optimized and personalized, creating value for companies and their customers alike. In short, it means that the design approach has to meet three key goals: desirability, economic viability, and technical feasibility.
Utiliser le Design Thinking : dans quel objectif ?
Design Thinking is based on an observation made by all commercial organizations: ensuring that their products and services remain desirable is a continuous process. This can involve a range of different objectives, such as solving a problem, simplifying a process, reducing the 'time to market', encouraging collaboration within the company, or raising productivity. In each case, the creative thinking method is a response to a need -- whether explicit or not -- and is a combination of analytical and intuitive thinking.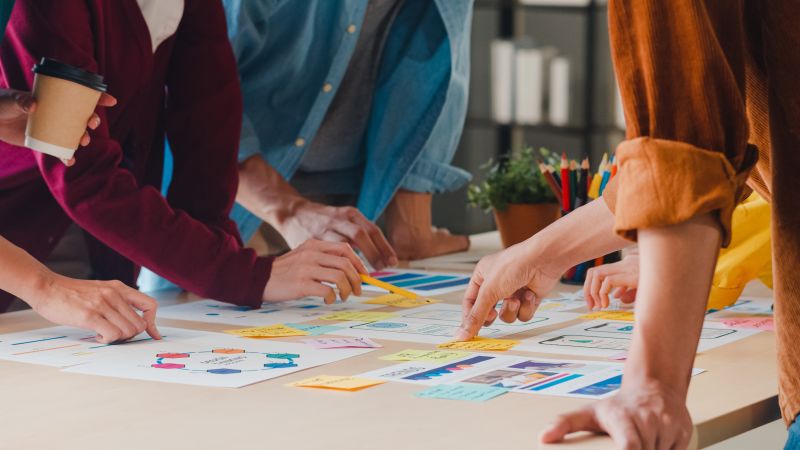 In practice, Design Thinking harnesses the skills of multiple actors, with a variety of profiles: marketers, engineers, designers, and any other professional who can contribute to this process of co-creation. Organizations that embrace this approach benefit from a very satisfactory return on investment, with a Forrester study conducted in 2019 estimating that using Design Thinking generates an ROI of at least 85%.
Les étapes de la démarche
The most frequently used design approach has five steps:
Understanding the customer/target audience The first step is to interview the users or target group affected by a change or improvement initiative in a way that shows empathy, so that their aspirations can be properly understood. A full immersion in their situation is the best way to understand their expectations, the context in which they operate, and the tools they use. At this stage, it is also helpful to define personal profiles, identify the various stages of the customer journey, make use of questionnaires (What? How? Why?), and create an empathy map.
Defining the need Once the observation phase is complete, the next step is to formalize, summarize, and then translate the customers' needs into a challenge that will be both inspiring and easily understood by the team. In other words, it means asking the question "So, how do we do this?" This step will identify the problems to be solved and the opportunities to be exploited and will also set clear objectives for the rest of the process.
Formulating ideas One way of producing plenty of original ideas that meet the needs being expressed is to organize a creativity session. The list of ideas can then be whittled down to those with the greatest potential for creating value. Various tools and techniques can be used to help with this process, such as brainstorming, co-creation workshops, mind-maps, creative looping, and SPIDER.
Prototyping the solution Prototyping means turning ideas into deliverables that can also be enhanced. The advantage here lies in the ability to both explore and develop the technical solutions chosen for implementing the ideas. Introducing these initial versions of products or services to users will also be valuable for maintaining empathy and collecting feedback.
Testing the solution This final step is the rollout of a test program with customers to further refine the understanding of their needs and to enhance the performance of the prototypes. The ultimate goal is a solution that meets users' real needs in an efficient and satisfactory way.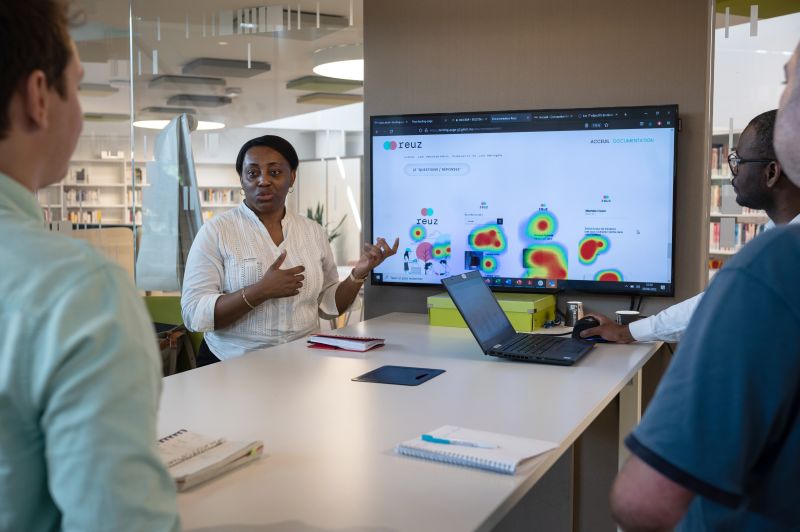 The Design Thinking methodology can be used by any company looking for innovation, whatever its industry or size. New products, services, and ideas can be prototyped in a physical, digital or even schematic form. "For example, Crédit Agricole Centre Loire asked emlyon business school to train some of its employees in Design Thinking," says Martin De Vesvrotte, Client Partner at emlyon business school. "This regional bank wanted to use the method to find solutions to the daily irritants encountered by its employees."
The bank had previously asked its 2,000 employees to identify the 'troublesome' processes (IT, legal, administrative, etc.) they faced at work. During the training program, a group of about a dozen employees was tasked with ranking these irritants and then prototyping solutions to solve them. "emlyon provided a customized Design Thinking training program that addressed the practical problems facing this branch of Crédit Agricole, along with familiarization sessions to share the training with other employees," explains Martin de Vesvrotte. Thanks to the program, the employees at Crédit Agricole Centre Loire were given a methodology for solving their everyday problems that they can now share with anyone in the company who is involved with the user experience or IT systems, for example.
Design Thinking is an effective way for companies to solve complex problems and foster innovation. It can help them adapt to rapid changes in the business environment by developing innovative solutions for meeting customers' needs or solving internal problems related to productivity or management. emlyon business school offers customized programs for training company employees in user-centric design methods and Design Thinking, while also supporting them as they build up their skills. These programs enable employees to develop key skills such as empathy, creativity, collaboration and problem-solving. It is essential to underline the importance of training in a career, not only to maintain an organization's competitiveness and adapt to a changing market, but also to enable employees to realize their true potential.