Courses are fully taught in English with French & international students, and world-renowned professors. Our courses are offered in English and delivered by international Professors.  
emlyon business school is a triple accredited institution (AACSB, EQUIS, AMBA) ensuring the quality of our teaching.  
Our Faculty is divided in 9 disciplinary groups:
Marketing
Accounting and Corporate Finance
Human Relations and Regulations
Innovation and Entrepreneurship
Organizational Behavior and Leadership
Operations, Data and Artificial Intelligence
Quantitative Finance and Economics
Social Sciences and Humanities
Strategy and Organizations
Here are some key elements on our Faculty:
161 Faculty members
48% non-French professors
56% specialized in the Academic Track and 44% in the action learning track
86% of research fellow have a PhD
72 books, 129 A-ranked and 173 B-ranked articles published by our Faculty over the last 5 years
Find more about our Faculty.
30 ECTS per semester, Fall and Spring.
15 ECTS for the Summer semester in the Graduate program.
Students take usually 5 courses per semester.
1 US credit = 2 ECTS credits
If interested in underloading credits (taking less than 30 ECTS) or overloading credits (taking more than 30 ECTS) please contact us directly. If accepted you would need a written approval from your home institution.
In Europe, credits earned for academic study are awarded under the European Credit Transfer System (ECTS). A full year of academic work represents 60 ECTS credits. Each American university has a slightly different system for converting ECTS credits into credit points in the US, so please contact your university's international office if you plan to earn credit for the academic work you complete in France.
English and French.
Most courses are delivered in both languages as our degrees are offered in both languages.
B2 level is required for non-native speakers.
Courses are assessed by examinations at the end of each teaching period and included in the term dates. These are compulsory and you must remain at emlyon for the examinations.  
For Assessment method and description please refer to the course syllabi.
Grades are awarded in France on a scale of 0 (lowest grade) to 20 (highest grade). The passing grade for a single course is 10/20.
Please keep in mind that grades over 14 are rarely given. Grades over 12 generally mean the student is among the top 10 to 15 % in the class – and a perfect 20 is extremely rare.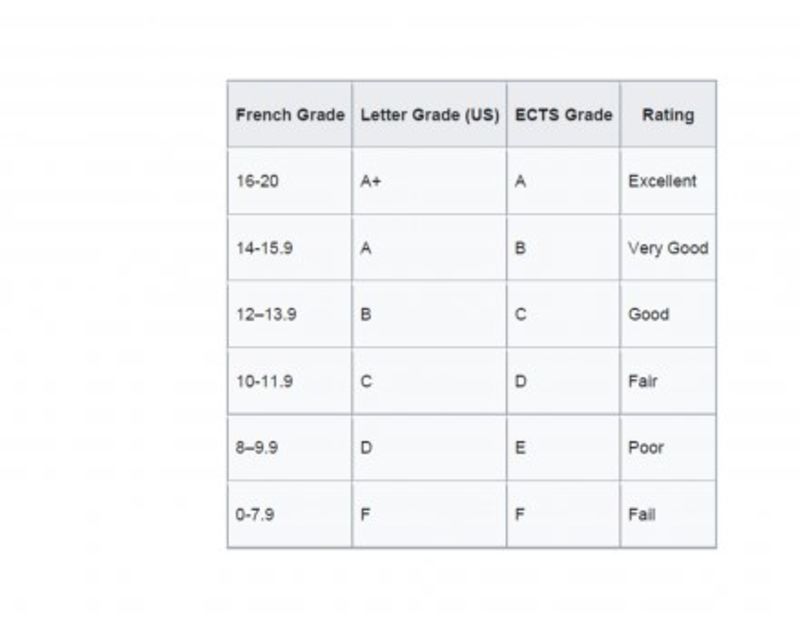 Academic transcript
Your academic transcript will list each course you have taken, a percentage mark (to one decimal place) and a course grade, which will be reported in the emlyon A-F format on your transcript.
Your emlyon transcript will be transferred back to your home institution. You should check with them to find out if they translate grades into their own system or record them as given by emlyon business school.