emlyon business school
As a student of the MSc in MSc in management – European Triple Degree – Grande Ecole,, you will benefit from a dedicated career track which will include workshops, expert panels, fairs, events, company visits etc...
The Careers Services Department provides all students with continual support in identifying career goals and developing action plans. Program-specific careers services include:
Workshops: Careers workshops help you prepare for your internship search and future career. Self-assessment tools and individual coaching provide you with the opportunity to prepare your next move
Tools: Our wide range of career tools help you find out more information on partner companies and sector specific resources, including databases with internship and job offers
Events: Over 200 companies visit emlyon business school campuses each year and provide students with continuous access to the business community (events include company visits, the luxury week, conferences and expert panels , finance careers days, vocation days, jobs to change the world, "career talks by…" & "learning from alumni")
Lancaster University Management School (LUMS)
Lancaster University Management School also has its own award-winning Careers Team that runs a Careers and Employability Programme providing students with the support they need to develop their careers and join the community of successful LUMS alumni working across the world. LUMS attracts many top global companies to campus and organises over 100 career events every year.
Employment key figures
Time taken to accept job offer:
78,6 % before graduation
95,2 % in less than 6 months
Average salary: 54,5K€
Survey carried out in 2020. Concerns the class of 2019.
Examples of internships and job positions
The program structure includes an internship that lasts at least 4 months.
Here are the companies in which former students have completed their internships: Gucci, Italy - Christian Dior Couture, France - L'Oréal, France - Infiniti Europe (Nissan), Switzerland - Printemps, France - Hermès Parfums, France - Coty (Lancaster Skincare) - Marc Cain, United Arab Emirates - Laboratoires La Prairie, Switzerland - Louis Vuitton, Switzerland - Cartier International Paris, France - Chanel, USA - Roland Mouret, UK...
Here are some examples of our graduates' first jobs:
Buyer Intern E-commerce Womenswear - Polo Ralph Lauren Europe (Switzerland)
Sale Associate – GUCCI (Australia)
Product and Operation Manager – Louis Vuitton Malletier (Austria)
Retail Marketing Project Manager - Lancel (Paris, France)
Business and Product Development Specialist - Infiniti (Geneva, Switzerland)
Sales & Marketing manager - Bulgari (Melbourne, Australia)
Fragrances Product Manager - Christian Dior (Zürich, Switzerland)
Make-Up Product Manager, Travel Retail Europe, Middle East, Africa - Yves Saint Laurent (Paris, France)
Sales Associate - Cartier (Frankfurt, Germany)
Katerina K., Graduate - Internship as a Senior Analyst for Chappuis Halder (Singapore)

I found my internship in a French consulting company in Singapore through emlyon business school's exclusive online job webpage. My internship was a truly rich experience in both a professional and a cultural respect.
Get to know how to choose the job you want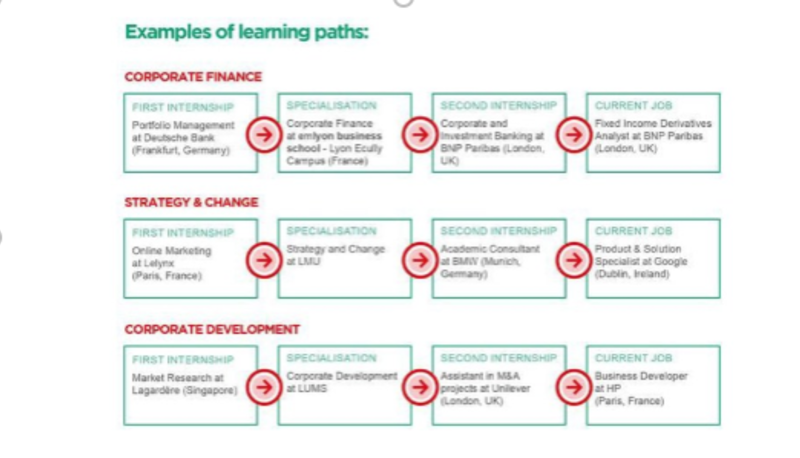 Get the support of more than 1,600 partner companies
The students of the MSc in Management - European Triple Degree - Grande Ecole benefit from top 3 international business school networks. In terms of partner companies, the possibilities are nearly endless.
Here are a few examples of emlyon business school's partner firms as well as Ludwig Maximilian Universität Munchen's and Lancaster University Management School's partner companies: Abercrombie & Fitch, Accenture, Akzonobel, Amazon.co.uk, American Express, ALLIANZ, Associated British Foods, AstraZeneca, Audi, Bain & Company, Barclays, BASF, Beauté Prestige International, The Boston Consulting Group, Bearing Point, Bertelsmann AG, BMW, BNP Paribas, Booz Allen Hamilton, BP, British Airways, Cadbury Schweppes, Carlsberg , Caterpillar, Citi, Cirquent NTT Data Group, Coca Cola Enterprises, Commerzbank, Daimler, Danone, Deloitte & Touche, Deutsche Bank AG, Deutsche Telekom, DTZ Asset Management, EY, Eurogroup, ExxonMobil, France Telecom, General Electric, GlaxoSmithKline, Goodyear Dunlop, Google Honda Motor, HSBC, IBM, Infineon Technologies, Intel, Johnson & Johnson, KPMG, Kraft Foods, L'Oréal, Lloyds Banking Group, LVMH, Marks & Spencer, Mazars, Microsoft, Mills & Reeve, Monitor Group, Morgan Stanley, Natixis, Nestlé, Nexolab, NISSAN INFINITI, NOMURA , Oliver Wyman, PriceWaterhouseCoopers, Procter & Gamble, PSA Peugeot Citroen, PUIG, Roland Berger Strategy Consultants, Santander, Siemens AG, Société Générale, Tesco, The Linde Group, TNTS-Infratest, Toyota Motor, UBS AG, Volkswagen, WABCO Vehicles, Walt Disney Company, Xerox…
Edward M., Graduate - Consultant at Capgemini Consulting (Paris - France)

I considered that this Triple Master's Degree would endow me with a firm footing for my ascension into the business world, as it combines a high standard of academic teaching with strong partnerships with companies within a multicultural framework.
The combined strength of 3 alumni networks
As a student of the MSc in Management - European Triple Degree - Grande Ecole you will have the unique opportunity to have access to the global networks of emlyon business school, LMU and LUMS.
As future graduate of emlyon business school, you will hold lifelong membership of emlyon business school alumni network, a network of near to 35,700 alumni covering more than 130 countries. You will benefit from all services it offers, including the online assessment modules. Its members will help you further develop your career regardless of which stage you are at, by providing you with career development information, exchange business information with you and share their experience for you to build on.